Search results
Uno Card Game, 2-10, 7+ - 1 Each , $6.19
Now with customizable wild cards! Easy to pick up - Impossible to put down! Race to get rid of all your cards. Match colors or numbers. Use the action cards or house rule cards against your opponents. When you're down to one card, don't forget to yell Uno! These 4 extra cards are game changers! Shuffle hands rule resets the game! 3 Customizable cards let you write any house rule you want! Customizable cards erase to make new rules! Colors and decorations may vary.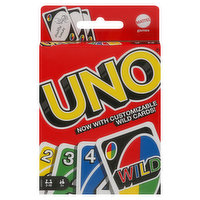 Uno Card Game, 2-10, 7+ - 1 Each
Open Product Description
Uno Cards, Double Sided, Flip - 1 Each , $5.99
7+. Contents: 112 cards, instructions. Flip the deck, change the game! 2-10 players. Play a flip card and all cards change from the light side to the dark side or vice-versa!. The light side plays like classic Uno but the dark side has way tougher penalties. A draw 1 on the light side becomes a draw 5 on the dark side! Light side skip becomes dark skip everyone! Only another flip card changes things back. It's a classic battle of light and dark that's flippin' fun! Colors and decorations may vary. Includes Spanish instructions. Conforms to the safety requirements of ASTM F963. CE listed. service.mattel.com. Made in China.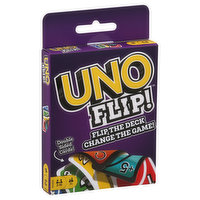 Uno Cards, Double Sided, Flip - 1 Each
Open Product Description