Search results
Hartz Brush, Slicker, Small - 1 Each , $7.99
For cats and small dogs. Coated bristle tips for gentler brushing. Removes tangles and mats. Developed with professional groomers. The most fundamental pet grooming tool for everyday de-shedding. Fine thin bristles for removing loose hair and under coat. Protective coating on bristle tips for gentler brushing. Helps remove tangles and matted hair. Ergonomically designed handle for maximum comfort and control.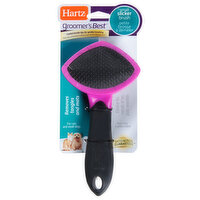 Hartz Brush, Slicker, Small - 1 Each
Open Product Description
Hartz Shampoo, For Cats & Kittens, Hairball Control - 15 Ounce , $6.29
Helps reduce hairballs. Conditions. Detangles. Hartz Groomers Best hairball control shampoo for cats & kittens aids in reducing hairballs in cats with a special conditioning formula. As cats groom themselves, hair is pulled loose from their coats, which is swallowed and accumulates in the gastrointestinal tract. This material becomes a hairball that can interfere with normal digestion and elimination. Hartz Groomers Best with hairball prevention beads was specifically designed to condition, detangle, and help reduce hairballs by coating the fur with a special hairball prevention aid. The special beads are activated by the shampooing process. www.hartz.com. Made in the USA.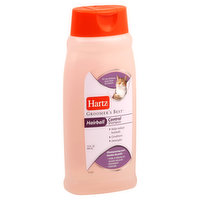 Hartz Shampoo, For Cats & Kittens, Hairball Control - 15 Ounce
Open Product Description