Search results
Alexia Onion Rings, Crispy - 11 Ounce , $7.49
Crispy, light panko breading perfectly finishes these sweet Spanish onions. Light, crispy and loaded with flavor. At Alexia, delicate Panko has met its perfect match in these sweet Spanish onions. Our perfectly crispy Panko breaded onion rings use a dash of sea salt for your tasting pleasure. Our story. At acclaimed international restaurants. Chef Alex discovered that by hand-selecting the finest ingredients and producing only small batches, he could create everyday side dishes that achieved a level of quality to match most any gourmet entree.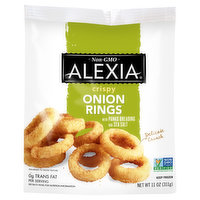 Alexia Onion Rings, Crispy - 11 Ounce
Open Product Description
Nathan's Onion Rings, Battered, Thick Sliced - 16 Ounce , $5.99
Since 1916. Famous. World famous recipe. In 1916, two young Polish immigrants named Nathan and Ida Handwerker put down their $300 life savings to open a frankfurter and french fry stand on Coney Island, New York. They called it Nathan's Famous! In addition to selling what was the country's newest taste sensation, the hot dog, Nathan and Ida served golden, crinkle cut french fries and onion rings at their legendary Nathan's Famous hot-dog stand. Now we're made it easy for you to enjoy the great taste of Nathan's Onion Rings right in your home anytime your family wants them! These Nathan's Onion Rings are in a class by themselves, using generously thick-cut, real onion rings (not chopped and formed onion pieces as others often do!) and a perfect seasoned batter that offers texture and flavor that is sure to please as a snack or side dish! Enjoy.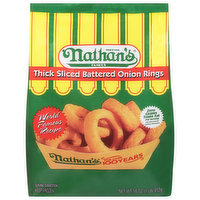 Nathan's Onion Rings, Battered, Thick Sliced - 16 Ounce
Open Product Description