Search results
TopCare Lens Cleaning Wipes, Non-Scratching - 30 Each , $3.99
6.0 in x 5.0 in (15.2 cm x 12.7 cm). Pre-moistened lens cleaning wipes. Non-streaking. Ideal for Use on: Prescription eyeglasses; Camera lenses. Quality Guaranteed: This TopCare product is laboratory tested to guarantee its highest quality. Your total satisfaction is guaranteed. www.topcarebrand.com. Scan for more information. Questions? 1-888-423-0139. topcare(at)topco.com. www.topcarebrand.com. For more ingredient information visit: http://topcobrands.com/48ztbk. Made in China.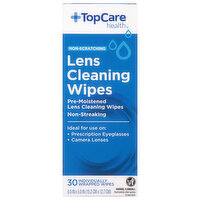 TopCare Lens Cleaning Wipes, Non-Scratching - 30 Each
Open Product Description
Zeiss Lens Wipes - 60 Each , $4.19
Individually wrapped, pre-moistened lens wipes (6 x 5 in/15 x 13 cm). Gentle and thorough cleaning. Steak-free. No scratch. Fast drying. Soft microfine tissue. Benefits of using Zeiss Lens Wipes: Professional cleaning solution; Gentle and thorough cleaning; Easily remove smudges and dirt for a streak-free clean; Lint and ammonia tree; Non-abrasive, soft, micro-fine tissue; Individually packed Lens Wipes for at home, work, school or on-the-go. Suitable for: All glass and plastic eyeglasses and sunglasses (particularly effective for high quality, coated precision lenses). Safety and sports goggles. Other optics including lenses on cameras, binoculars and microscopes. Safe for use on anti-reflective coatings. www.zeiss.com/cleaning. Facebook: (at)zeissvisioncare.usa. Instagram: (at)zeussvisioncare_usa. Twitter (at)ZEISSvisionUSA. USA:1-800-358-8258. Printed with soy ink. Made in China.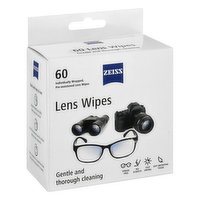 Zeiss Lens Wipes - 60 Each
Open Product Description