Search results
Cowboy Firestarters, 100% Natural - 20 Each , $9.49
Starts any fire fast! Great for grilling, camping, fireplaces, hunting, smokers, wood stoves, and more! Safer use. Better flavor. 20 Starters (This product is filled and sold by weight, so the actually number of starters may vary slightly). With Cowboy Firestarters, there are no paraffin waxes or other petroleum based chemicals. Our starters are simply made from sustainable, post-industrial wood combined with Non-GMO vegetable wax. So you can trust that your food will have the best flavor possible and that you and your family are safe from unnecessary chemicals. All natural. No petroleum. Vegetable based. For safer use and better tasting food. Certified Low VOC Emission product: This product complies with South Coast Air Quality Management District Rule 1174, Ref. C255-AAP-15WWF. cowboycharcoal.com. www.P65Warnings.ca.gov. www.877noburn.org. www.fsc.org. For information about this and other great Cowboy products visit cowboycharcoal.com. FSC - 100% Wood from well-managed forests. www.fsc.org. Made in the Netherlands.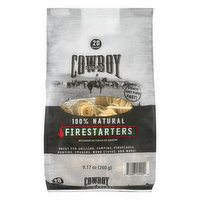 Cowboy Firestarters, 100% Natural - 20 Each
Open Product Description
Duraflame Firestarters, Cubes - 18 Each , $5.99
Extra Fire Power: To start charcoal or wood fires at home or on the go. Instant lighting just light the wrapper. Safer than charcoal lighter fluid. Reliable lights charcoal every time.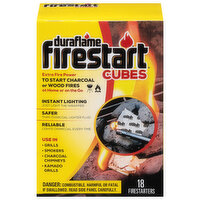 Duraflame Firestarters, Cubes - 18 Each
Open Product Description