Search results
Dunkin' Donuts Hot Cocoa, Milk Chocolate, K-Cup Pods - 10 Each , $7.99
Keurig. Genuine K-Cup pods. Bring home everything you love about Dunkin' Donuts with our Keurig K-Cup pods. Enjoy an authentic Dunkin' Donuts experience in no time at all. It's just another way we keep you running. Cozy up to the warm, chocolatey taste of Dunkin' Donuts hot cocoa, fresh from your Keurig brewer. America runs on Dunkin'.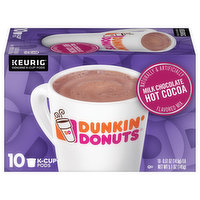 Dunkin' Donuts Hot Cocoa, Milk Chocolate, K-Cup Pods - 10 Each
Open Product Description
Russell Stover Melt-Away Milk Chocolate Santas - 1.7 Ounce , $1.79
Our favorite way to enjoy these sweet milk chocolate santas? One mug of hot milk + one package of melt-away santas = the perfect holiday treat to ward off a winter chill! Our RUSSELL STOVER Christmas Hot Chocolate Melt-Away Milk Chocolate Santas, 1.7 oz., is perfect for stocking stuffers, gift toppers, class parties, friends and loved ones! Made with the finest ingredients, RUSSELL STOVER has been an American-made classic since 1923. We are proud to be part of your Christmas candy traditions and everyday indulgences.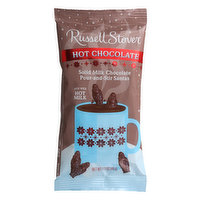 Russell Stover Melt-Away Milk Chocolate Santas - 1.7 Ounce
Open Product Description